Blood and Plasma Donation Camp held at Gajera Vidya Bhavan Katargam
"There Is Only A Difference Of One Bag Of Blood Between Life And Death."
If you donate money, you give food, but if you donate blood, you give life. Blood Donation is the act of giving blood to someone who needs it. It is not just about giving blood, but it is an act of kindness that saves the lives of hundreds of people. These fifteen minutes of your life can save someone's entire life. You can't even imagine that donating one bag of blood can be so beneficial to the human race. Donating the blood without expecting or asking for any money or gesture is on the 1st Month Punayatithi of Late Smt. Sunitaben Chunibhai Gajera a great act of Kindness. As it is rightly said "Each drop of blood can save a life"

A noble initiative was undertaken by Gajera Trust on 2nd May 2021 Sunday, as they organized a 'Voluntary Blood Donation Camp'. This was just a way of extending support to society in the present situation where Covid-19 is posing a threat to the lives of many and people are in dire need of blood. The camp was held at Gajera Vidyabhavan Katargam school premises following all government guidelines of social distancing and sanitization procedures.

The blood donation camp was held at 9 am. The school staff along with the LD staff were seen to take such a great initiative for a noble cause. The event was inaugurated with the lighting of the lamp by Our Managing Trustee Shree Chunibhai Gajera and Ms. Kinjalben Gajera. Before the blood donation, weight, pressure, body temperature was measured and everything around was sanitized continuously.

The blood you donate gives someone another chance of life. One day that "someone may be a close relative, a friend, a loved one—or even you. The parents and all the staff members displayed a true humanitarian spirit, a hallmark of every Gajerian by participating in the camp enthusiastically. The donors found the fit was happy to contribute to saving someone's life. The pride of the volunteers was reflected on their faces while distributing certificates and refreshments to the donors.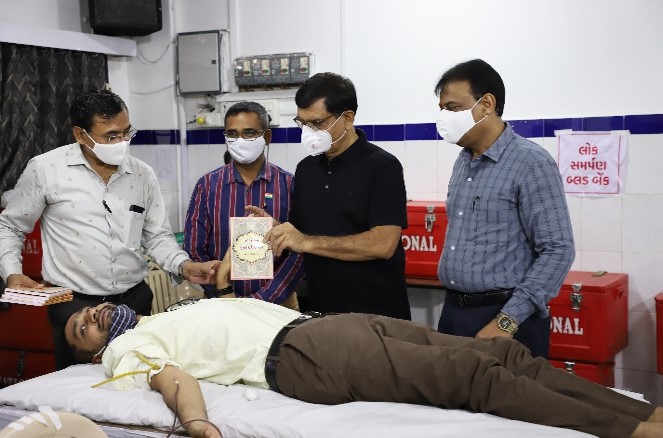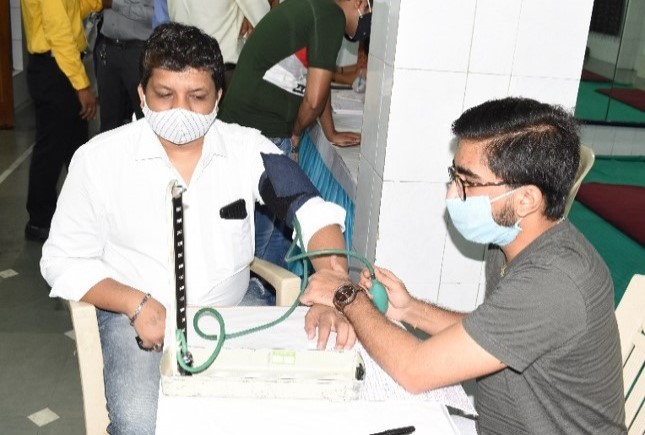 Giving our blood to others who are in need, can save a life. "You saved not only one person's life but also a life of many who depends on that person". The Person who got life from others looks forward to his/her turn. This attitude in people grows like a chain reaction. And everybody on the globe is now connected in this chaining process.
"There Is No Better Way To Make Your Heart Happy Other Than Helping People And Reaching Out To People Who Desperately Need You."